Are you new to the world of High-Performance on track driving with the eventual goal of Racing? Check out our HPDE page to start your journey. Are you an experienced HPDE or Race driver looking to continue your pursuit and begin Wheel-to-wheel racing? This page is for YOU!
2023 Competition School Dates & Location
March 18-19 (two day format school), June 2 and November 3 (tentative). All schools are at New Jersey Motorsports Park in Millville, NJ.
What if I can't make the next school?
We host multiple Competition Schools throughout the year, and we occasionally add more if there is interest. Please reach out to Brian (bcasella@nasane.com) if you are interested.
What are the car & gear eligibility requirements?
Competition School requirements follow the same guidelines as wheel to wheel racing. We require full racing safety gear for both the car and driver well beyond what is required to participate in HPDE.
Please read and become familiar with the Club Codes and Regulations (CCR) HERE to familiarize yourself with what that means.
What is Competition School?
Competition School is a 1 or 2 day experience of classroom, racing simulations and on track drills for ADVANCED drivers to learn the specific skills required for Competitive wheel to wheel racing. You can be issued a Competition license from our school which will allow you to participating in our wheel to wheel racing.
What are the driver Eligibility Requirements?
Drivers with Advanced HPDE Experience (HPDE 3&4) are able to apply for competition school.
Other relevant experience can be used towards admission to a Competition school. (Endurance Racing, TREC Racing, Competitive Kart experience)
Drivers licensed to race with other Nationally Sanctioned Organizations (SCCA, BMWCCA, etc) are able to apply for a NASA Provisional License to be issued without the need to attend a Competition school.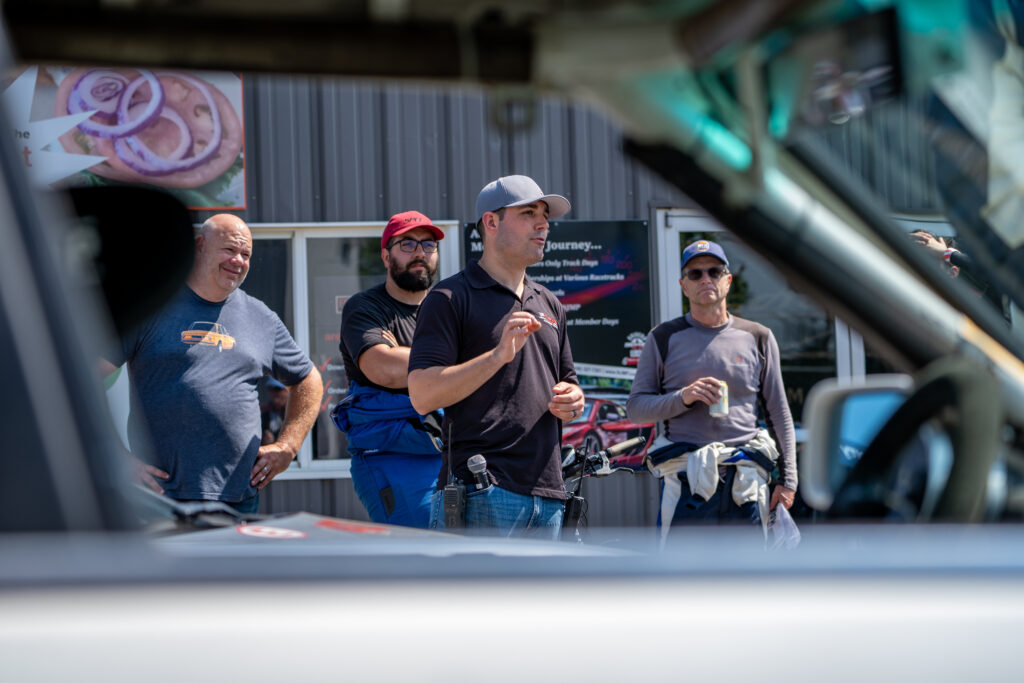 Requirements
Membership with NASA
Advanced Driving Experience (HPDE 3-4 or equivalent)
Full Driver Gear per the CCR (SA-rated helmet, HANS Device, Fire Resistant Racing Suit, Nomex Socks, Fire rated Shoes and Gloves.)
Fully race-prepped car per the CCR (rollcage, fire system, window net, etc)
Completed NASA Physical Form from your doctor or self-certification if eligible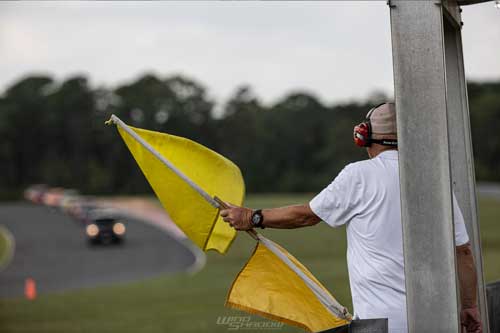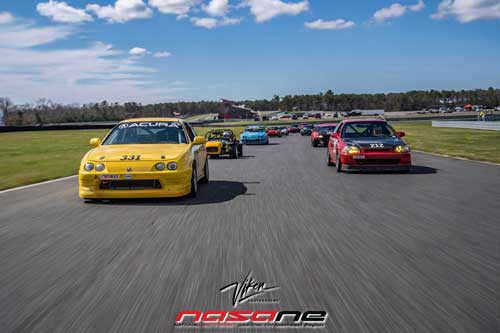 What you can Expect in NASA Competition School
Classroom Instruction:
The classroom curriculum focuses heavily on the theory and rules for SAFELY competing and passing regulations. There will be an in depth understanding of flags (and a few racing-specific flag combinations you may see) and a written test based on the CCR as a review.
On Track Exercises:
On track drills in competition school will include two and three wide drill, late passing "Divebomb" drill. Since drivers are expected to enter competition school already understanding high-performance driving, our competition school focuses on becoming comfortable driving at very close proximity to other cars.
Important Safety Drills
We require successful completion of a timed Emergency Exit drill for the driver as part of the completion of our school.
Participants must be able to exit the vehicle in under 10 seconds.
Mock Starts and Practice Races
Competition School has a large focus on pace car negotiation, and includes several and practice standing/rolling starts. The final session of the school is a "Fun race" where seasoned racers are invited to participate in a non-points race with the students.
What happens if/when you graduate.
Successful Graduates of Competition School earn a Provisional Competition License, are now eligible to participate in our Wheel-to-Wheel Race groups, and get a Rookie "R" to display on their car.
After 4 successful (clean) races, these new racers earn a full NASA Competition License. After 8 races the "R" can come off the car.
We have two comp schools formats: 1) A March expanded comp school "weekend" where drills and activities span the two day weekend. 2) A comp school "Friday" where drills are condensed to one day, but successful students participate in the points races Saturday and Sunday of that weekend.
---
Timeline for Comp School: (Application, vehicle & gear inspection, physical)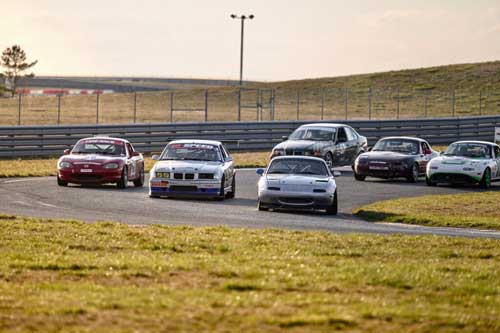 As soon as you are sure you are serious about entering Comp School, reach out to Brian (bcasella@nasane.com) for approval and to get the required information. Fill out the Official Competition School application on the NASA website. Competition School entry can be a lengthy process, so the sooner you get on the list the better.
The Racing Medical form (click here) completed by a doctor should be uploaded at least 2 weeks before the planned event. The exam requirements and recertification timelines vary based on current age and health status. Many Primary Care Doctors only schedule Physicals months in advance, so do not wait on this! In the event that you cannot complete a physical in time, many drivers are eligible for a (New for 2023) self-certification process. Drivers without serious risk-factors are able to complete the form themselves and submit *The self-certification carries a $50 processing fee.
The work to update a car to race trim from HPDE is significant, as is the amount of gear required. If you complete these steps well in advance, you can avoid a stressful and expensive last minute rush. Please check out the NASA sponsors on the bottom of this page, and check out the member benefits tab on Drivenasa.com help cut down on those expenses.
One common reason that students struggle in comp school is because they are participating in an unfamiliar car or on an unfamiliar track. We strongly recommend doing track day(s) in your car before the school weekend so you can focus on learning racing skills and not learning a new car.
NASA Northeast also has a Reserve car number system. Please review the list and form to request here to avoid any issues with timing and scoring on race weekends.
We use AMB timing equipment to moderate the race session for timing and scoring. A transponder can be a battery or hardwired style. The transponders can be subscription based with AMB. Your transponder needs to uploaded to NASA profile on the drivenasa.com website.
Tips and general advice for comp school
Read through and familiarize yourself with the CCR, especially the competition section and passing diagrams in the appendix A section. Items like Rollcage bar thickness are not incredibly important to remember when racing, but Flags, Passing rules and general regulations are VERY important.
Familiarize yourself with YOUR CAR. People frequently sign up for competition in a brand new car, or after a significant build. Getting comfortable in a new car while also trying to learn competition driving adds a significant challenge to an already intense experience.
Before building or buying a car, find what classes are popular in the region and which are growing. Speak with racers in the paddock. Find who fit in with best.
Visit Facebook groups for advice from current racers: NASA NE Racer page as well as some class specific pages. (Be sure to answer group entry questions to be admitted quicker)
Communicate race-class specific questions to group leaders. You can find their contact emails here.
---
Class Compliance: Dyno
NASA requires Dynamometer readings from a DynoJet for many race classes. Dyno readings need to be completed at least once a year. We do have dynos attend events throughout the year for compliance needs, but please try to get a dyno done before your first event of the racing season. You need to bring the proper compliance dyno sheets to the operator when using a dyno not at a NASA event. These forms will be different depending on which class you intend on racing in.
All cars racing in Super-Touring 1-6, GTS, and Time Trial must have a dyno on file. .
Some NASA classes also have dyno rules to ensure all compliance measures are met, however dyno sheets are not required to start racing. Some of these are: Honda Challenge, SpecE30, SpecE46